Restorative dentistry
Restorative dentistry involves using multiple methods and dental appliances to fix minor to severe dental issues. These issues could be anything from a single missing tooth, to a full set of implanted dental issues. The main goal of restorative dentistry is to either restore your teeth back to their natural look or potentially fix any dental issues caused by genetic anomalies.
Restorative dentists can treat anyone regardless of age. They treat children, adults, and seniors. Typically, however, patients that need restorative dentistry tend to be older.
What Materials Are Used In Restorative Dentistry?
The material will depend on what is needed to complete the task and the location of the area that is to be restored. If the area is more visible, then a more aesthetically please material will be used. If the area is less visible but is focused more on chewing like a molar, then a stronger more durable material will be used so it can stand up to the chewing.
Some common materials include:
Metals
Polymers
Ceramics
Composites
Glass Ionomer
Amalgam Alloys
Denture Base Resins
Noble and Base Metals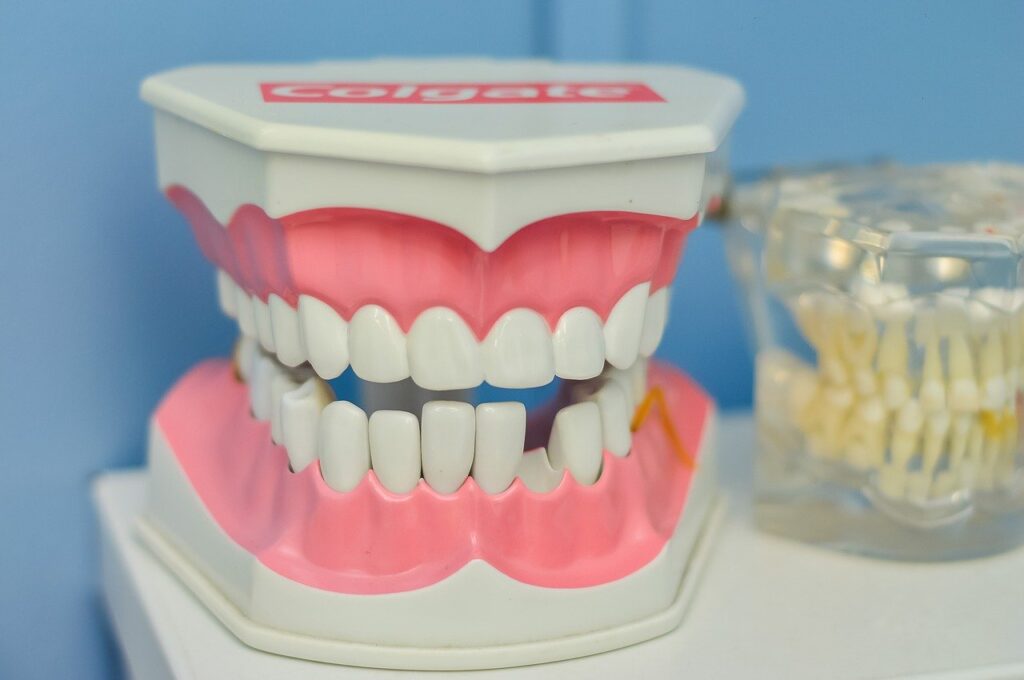 What Are The Different Restorative Procedures?
Since there are lots of problems that can occur in the mouth, the dental industry has developed numerous procedures in an attempt to fix them.
Dental crowns
Dental crowns
are used to replace or reinforce the top of the tooth. Depending on the location and use of the tooth, the crown will either be tooth-colored or made of a more durable material like metal. There are many reasons why you would need to get a crown. One of the most consistent reasons to get a crown is a result of
Root Canal Therapy (RTC)
, this is because the therapy will leave a hole in the top of the tooth and it will need to be covered.
Other reasons to get a crown include:
Extensive dental work on a tooth.
Broken, fractured, or chipped tooth.
Worn down tooth – Due to bad oral care, or age.
Large cavity.
Severe discoloration.
Dental Implants
How Many Dental Crowns Are There?
There are 5 different types of dental crowns, they are different for a number of reasons, mainly concerning: cosmetic appearance, the function of the tooth, and the position of the gums.
Porcelain-Fused-To-Metal-Crowns
Easily the most common material for dental crowns as well as bridges, as the name suggests these appliances are a mixture of porcelain and metal. The crown is created by fusing the two materials together to create a very durable bond on a chemical level. These crowns in particular are excellent for your teeth as they are stronger than regular porcelain and very aesthetic.
Metal & Gold Crowns
Metal crowns come in a variety of forms as well as colors. Since they are pure metal or gold, they are very strong and will not wear down your teeth. These crowns will typically consist of metal or gold, however, other metals are used, their major downside is the appearance of the crown. Metal and gold visibly stand out over teeth, so generally, these crowns are used for less visible teeth.
Cosmetic Crowns (Ceramic)
Ceramic crowns are made entirely of porcelain. These crowns are typically used for the most visible teeth since they are more likely to match the appearance of your teeth. The front (anterior) teeth will most likely have porcelain crowns. The front teeth are usually not used for chewing, so the crown will not have to be nearly as durable.
All-Resin Crowns
All-resin crowns do not cost as much as their metal and porcelain counterparts. They are cheaper, but significantly less durable, which makes them prone to shorter lifespans and fractures. Typically, they are used on baby teeth only due to their short-term nature, and lack of durability.
Stainless Steel Crowns (SSCs)
Generally, SSCs are used for preserving severely decayed or damaged baby (primary) teeth.
What Are The Benefits Of Dental Crowns?
Dental crowns have lots of benefits for all of your teeth:
Natural-looking
Enhance your smile
Fixes severely damaged or decaying teeth
Protect teeth after a root canal or dental implant placement
Replace worn out or large fillings
Cost-effective
Simple and relatively painless procedure
Five types of materials to choose from to fit every budget, need, and lifestyle
Quick recovery time
Can last up to 15 to 30 years with proper care
Low risk of fracture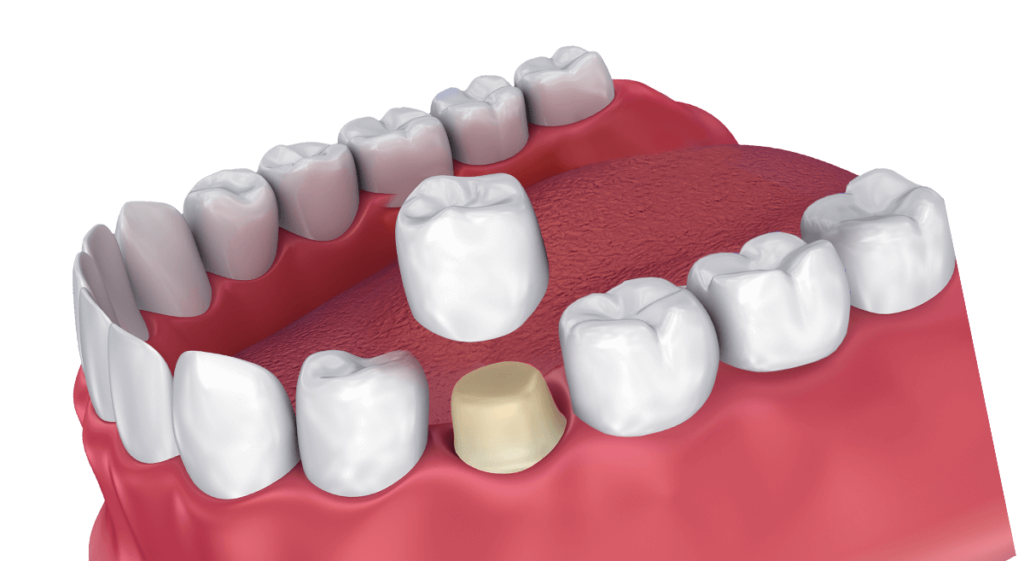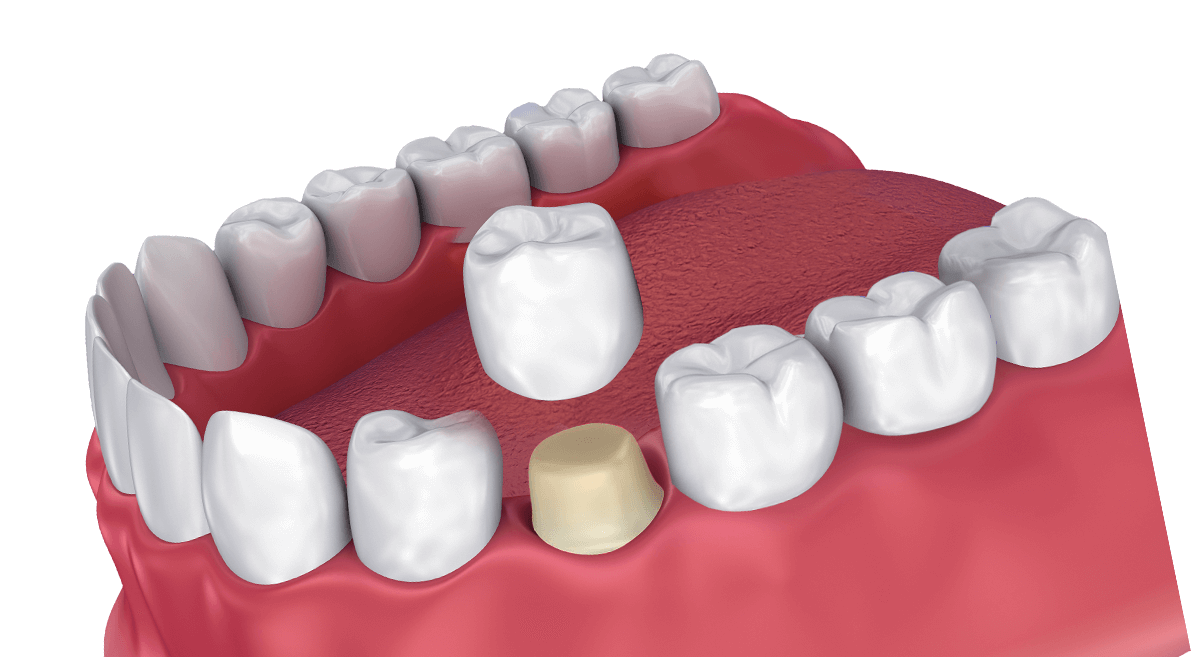 Dentures
Dentures
 are replacement teeth that are either implanted into the jaw or are removable (most common). Typically dentures are recommended when there is not enough structural support, or neighboring structures for a 
dental bridge
.
How Many Types Of Dentures Are There?
Fixed Dentures
These are implant-supported and require surgically placed dental implants. The denture is fastened to the implants with screws. The implants themselves are placed in the jaw bone. Fixed dentures are typically made out of the same acrylic as removable dentures, but can also be made out of zirconia, porcelain, or metal fused to porcelain. The latter is also considered a full-arch implant-supported bridge.
Removable Dentures
These are the most popular and most common types of dentures. When most people think of dentures, they are most likely to be thinking about removable ones. There are multiple kinds of removable dentures.
Complete Dentures
These replace all the upper or all the lower teeth. A set of complete dentures will replace the upper AND lower teeth. The upper denture is usually more stable and retentive because it creates suction with the roof of the mouth, and covers more surface area. The lower denture is horseshoe-shaped, gets dislodged more frequently, and is more unstable during function (chewing, talking, etc.).
Partial Dentures
These replace one or more of the teeth in an arch and are anchored by the surrounding existing teeth in the same arch. They can be made out of acrylic, or metal and acrylic.
Implants – retained complete dentures – these involve two or more dental implants which provide retentive support by allowing the denture to 'snap in'. The mechanism usually involves a male cap that is attached to the implant and protrudes from the gums which snaps into the female housing in the denture. There are also cases where a titanium bar may be incorporated.
Hybrid Partial Dentures
Involves a removable denture that utilizes existing natural teeth AND implants to retain and stabilize the denture. These types of dentures are particularly useful when most or all the missing teeth happen to be on only one side of the arch. In this case, the implant(s) can be used to support the denture on the side with fewer or no teeth.
Dental Implants
A dental implant is used to replace a tooth, it requires a screw-like fixture to be inserted into the jawbone, and then a crown (
crown aftercare tips
) is attached to the device. An implant is a preferred method when there are not enough supporting structures for a dental bridge.
How Many Types Of Implants Are There?
Single-tooth implant
Single dental implants are used when one tooth needs to be replaced. Having gaps in your teeth is not advisable as it can give the other teeth the ability to move and change position.
Implant-Supported Bridge
If the patient has multiple missing teeth, then an implant-supported bridge is recommended. Two single-tooth implants will be placed on the far sides of the gap, and pontic teeth (crowns) will be used to fill the center gaps.
All-On-4 Dental Implants
If the patient requires a solution for many missing teeth, then an all-on-4 implant is recommended. This will require 4 implants to be inserted and is generally only used when all the teeth on the upper, or lower jaw need replacements.
3-On-6 Dental Implants
Similar to the all-on-4 implants, 3-on-6 are used to replace many teeth. These implants may be used if the patient has sufficient enough bone health.
Inlays And Onlays
If the patient only needs part of the top of the tooth restored, inlays and onlays are recommended. These filings are generally used for tooth decay and minor repairs.
Find out about there lifespan here.
Yes, they can be! find out all about the benefits of veneers!