Implant-Supported Dentures
implant-supported dentures are a set of false teeth that are fixed into place with metal screws that are inserted into the gums.
What Are Implant-Supported Dentures?
Implant-supported dentures are designed to replace some or all of the upper or lower teeth, 4-8 screws will be inserted into the jaw bone so the dentures fit securely in place and do not move. Implant-supported dentures are stronger than normal dentures support and this allows the patient to consume foods that regular dentures may not be able to withstand.
To be a viable candidate for implant-supported dentures, the patient will need a sufficiently strong and healthy jawbone. If the jawbone and gums have been severely compromised by trauma, periodontitis, or other issues then the patient may not be eligible for these devices.
Implant-supported may also be referred to as snap-in or snap-on dentures.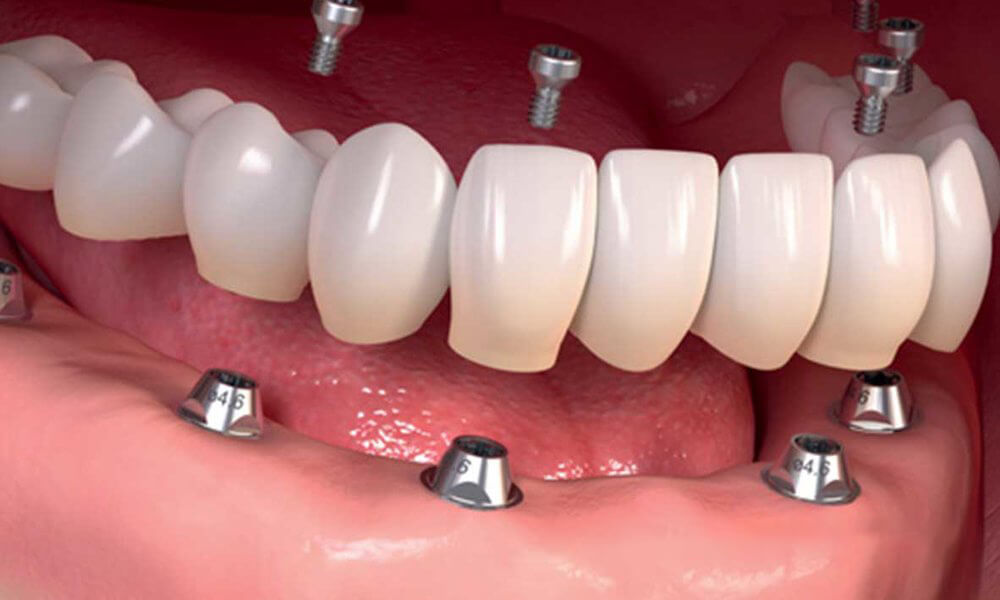 Implant-supported Vs. Retained
Implant-supported dentures are permanent dentures and are not meant to be removed. Implant-retained dentures are removable or 
temporary dentures
. Implant-supported dentures are the best option for a patient who wants to go on living their life as "normal" if you have regular dentures you may have to make adjustments in your diet. Implant-supported dentures can withstand the force that it takes to eat harder foods without any issue. The jawbone absorbs most of the impact of the bite, which reduces pressure on the gums.
The implant-supported dentures may also be called a "all-on-4", "all-on-6", or "all-on-8". The numbers are in reference to the number of screws used to support the dentures.
Implant-retained dentures allow you to eat foods as you normally would, except your gums will take more of the impact. These dentures also need to be removed and cleaned every night.
Implant-Supported Dentures Procedure
Implant-supported dentures are a serious restorative measure and can take months to complete since it will require screws to be inserted into the jaw.
Inserting The Screws
First, the implants are placed deep into your jaw bone, the jaw will then need to recover fully from this step before moving on to the next step. Recover time will vary depending on the patient, but it will generally be at least a couple months.

Making The Mold
Once the jaw and gums have fully recovered, the dentist will take a mold of your arch which will be used to create the set of false teeth.
Inserting The Dentures
Once the dentures have been created in the lab, they will be shipped to the dental clinic and a final appointment will be made. During this appointment they will be placed in your mouth. The dentist will make sure the dentures fit properly and do not cause your any pain or discomfort.
Implant-Supported Dentures – Aftercare Tips
Having false teeth does not mean you don't have to care for them. Food particles and bacteria can still lead to staining and gum disease. You will want to continue with a regular oral care routine to prevent the build-up of bacteria, gum disease, and bad breath.
Brush your teeth twice a day with a soft-bristled toothbrush.
Use regular toothpaste (or whichever one your dentist recommends).
Rinse your mouth with an antibacterial mouthwash.
Floss each false tooth twice a day.
Keep up with your regular dental appointments.
it may also be recommended a good idea to use a water flosser as well.
Implant-Retained Dentures – Aftercare Tips
Since these dentures are removable, you will need to take them out of your mouth to clean them. When you're sleeping it is recommended that you place them in a glass with a 
denture-safe liquid
 to keep them from drying out. 
Pros & Cons Of Implant-Supported Dentures
Pros
Natural-looking and feeling.
Can resume your daily eating habits without change.
Implants keep your jaw and gums safe and help protect your gums from the force.
The patient does not need to remove them in order to clean them.
Cons
Significantly more expensive than traditional dentures.
Can take months to complete the procedure.
They need a strong and healthy jaw bone.