Dental Bridges - What Are they?
A dental bridge, also known as a fixed prosthesis, is a common way to replace single or multiple missing teeth. There should be stable, healthy teeth on either side of the missing tooth or teeth to successfully prepare and deliver a dental bridge.

Do you need a bridge?
Gaps in your teeth can cause a variety of problems, it's better to call us and deal with the gaps right away!
What Are Some Benefits Of A Dental Bridge?
Restore your smile that may be looking bad due to the missing tooth.
Restore the ability to chew properly and speak. A missing tooth can cause you discomfort while eating and chewing.
Help you maintain the shape of the face.
Help in distributing the bite forces evenly by replacing the missing teeth.
Prevent the remaining teeth from being damaged and provide additional support.
What is the procedure for a dental bridge?
Bridge preparation
The abutment teeth are "shaved down" by approximately 1-1.5mm or more to accommodate the custom-made bridge retainers. The walls of the preparations must have the correct "draw" or parallelism.
Impression
Impression material is used to make an accurate mold of the teeth being treated, the surrounding teeth, and the bite. Impressions of all top and bottom teeth are made. This can also be accomplished digitally using a specialized scanner instead of impression material.
Formation of the dental bridge
The dental bridge will be created from the impression of the teeth to ensure that it will be an excellent fit for your teeth.
Cementation of the permanent bridge
Permanent dental bridges are cemented in place using a permanent adhesive. The bite is checked and adjusted as needed.
Dental bridges, like dental crowns, can be made of different materials, such as base metal alloy, gold alloy, porcelain, porcelain fused-to-metal, zirconia, porcelain-fused-to-zirconia.
Who Needs A Dental Bridge?
Gaps in your teeth can cause your other teeth to shift position and change your bite. These changes may lead to headaches, jaw pain, and a higher risk of periodontal disease.
Bridges serve several purposes:
They restore a healthy bite to make chewing easy.

Bridges may improve your smile.

They may maintain facial contours.

May decreases damage to other teeth from an uneven bite.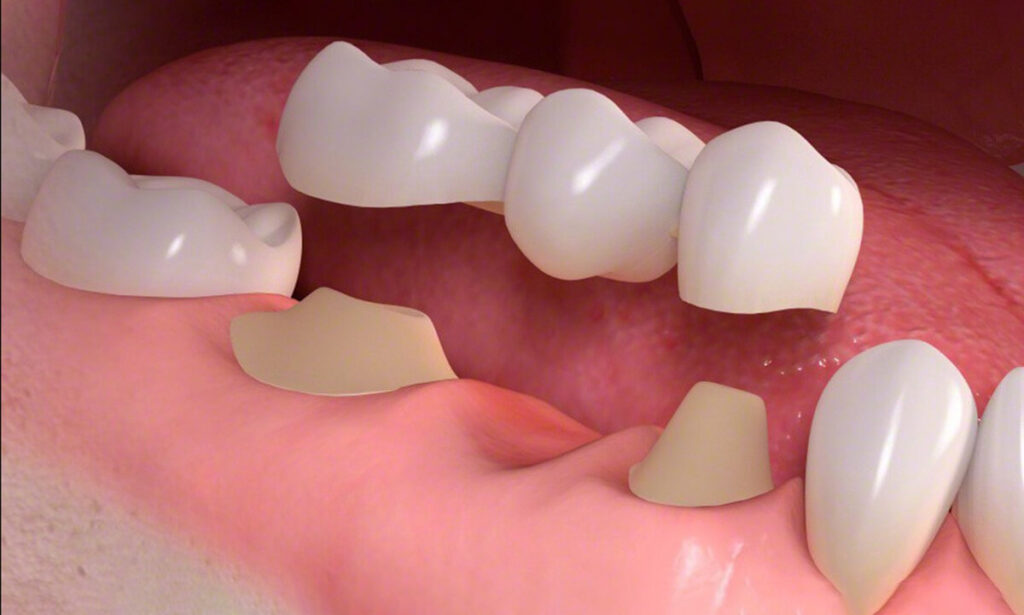 Are There Different Types Of Dental Bridges?
Traditional Bridges
The traditional dental bridges use a crown that is directly planted to the missing area. They are the most common type of implant that is used by dentists. The crowns used in the procedure are made of ceramic or porcelain.
Cantilever Bridge
These types of bridges are used when there is an adjacent tooth available next to the missing teeth. They are not in use anymore and are not recommended by dentists. They require too much force in the installation of the crown and may damage the other teeth.
Bonded Bridges
These bridges are made from porcelain and the gums are supported by a metal framework. They provide additional support to the teeth and are bonded by the next existing tooth.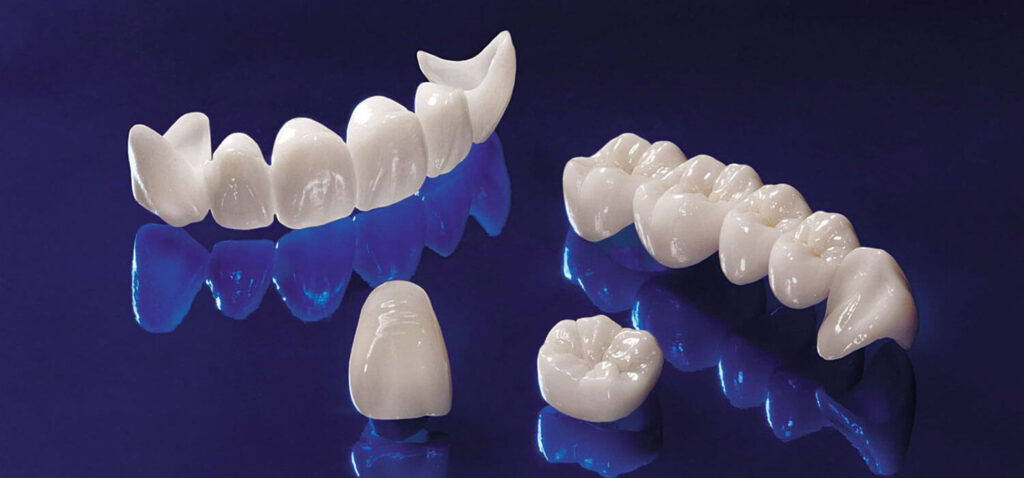 Why Choose Smiles?
We offer everything you could ever want from a dentist service provider. We have multiple convenient locations with weekday and weekend hours.

Our dental staff will get you booked in at the earliest most convenient time. We'll do everything we can to make your appointment as comfortable as possible. We're even prepared and experienced with booking in children. You can bring the whole family into any of our clinics and get all your dental work done!

We hope to see you soon, we're accepting new patients today!
What We Offer
Comfortable, Relaxed Environment

Instant Financing options
Want to know more about Dental Bridges? Check out these awesome blogs!
Our Fees Are Always Below The Dental Health Guide!
Smiles Dental Group knows you want great value, that's why we are ALWAYS below the Alberta Dental Fee guide.

Want to find out about our prices?
related Dental Clinic Services